about us: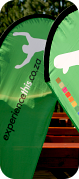 Experience This is one of South Africa's leading "experience" companies. Established in 2004, we offer a range of corporate eventing and teambuilding services. Our client list includes First National Bank, Standard Bank, Nedbank, Nedlife, Old Mutual, SA Rugby Legends, KPMG, PWC, Vodacom, Motorola, Sony Ericsson, Riso Africa and Mitsubishi to mention a few. We pride ourselves in our creative, tailor-made programmes, designed around each client's individual needs and budget. With over 4 years of successful events behind us, we specialize in the following areas:


1. Teambuilding
2. Incentive Travel
3. Client Entertainment & Company Events (e.g. Family Fun Days)
4. Experiential Conferencing
5. Specialised Tours & Travel
6. Corporate Wellness (Spa) Days
7. High-end Hens' Nights & Stag Parties (Paintballing Parties / Pamper Parties / Luxury Catamaran Cruises...)
Click here for more info on our corporate services.