Some of Our Favourite "MUST EXPERIENCE" Venues and Activities:
We have selected some of our favourite corporate get-aways to give you some inspiration when planning your next event. For a more detailed itinerary and costing, please contact us at info@experiencethis.co.za.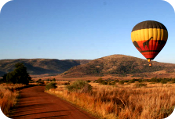 IVORY TREE GAME LODGE, PILANESBERG - CONFERENCE, TEAMBUILD & SPA

After being invited for a "sneak preview" of Ivory Tree, we were so impressed with the lodge that we returned with one of our corporate groups of 55 pax for their annual 3-day, 2-night Management Conference & Teambuild. We facilitated an awesome Amazing Race through the spectacular Pilanesberg Game Reserve, which was a definite highlight in the itinerary. We also arranged clay pigeon shooting and quadbiking for the adventure seekers whilst others opted for a relaxing spa treat. For our final evening, we surprised guests with a bush boma dinner and Marimba band underneath a starry, African sky. Aah, this is the life! More...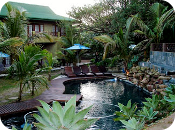 PALM DUNE, BLYTHEDALE BEACH, KZN - CONFERENCE & TEAMBUILD

At the end of March 2009, we had the privilege of taking one of our regular clients to Palm Dune, an idyllic coastal hide-away on the North Coast of KwaZulu Natal, a convenient 1-hour drive from Durban. Palm Dune's facilities include luxurious and comfortable accommodation (including a number of "family" suites with adjoining lounge and kitchenette), superb two-tiered conference venue, cinema, dining room, informal lounge, two pools and of course, direct access to one of the North Coast's most private and unspoiled beaches right next door to the Blythedale Estate. More...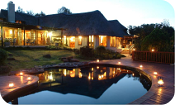 GRANNY MOUSE, KZN - CONFERENCE, TEAMBUILD & SPA

Granny Mouse is legendary in the KwaZulu Natal Midlands for its country charm. Upon closer investigation, we discovered that not only is this venue an enchanting get-away for couples but it is also a fabulous conferencing & teambuilding venue. There are expansive fields, waterfalls, trails & all manner of nooks and crannies that make this the ideal location for a Treasure Hunt or Amazing Race. The conference venue, outstanding food, private wine cellar & accommodation ensure that this should be a consideration for your next event. More...
HADEDA CREEK, PARYS - CONFERENCE, TEAMBUILD & RAFTING

Hadeda Creek, near Parys, is a comfortable 90-minute drive from Jo'burg but it is well worth the effort if you are looking for a venue that delivers good food, fun and adventure, all at very affordable rates. The atmopshere is laid-back but there is no compromise on safety, especially when it comes to white water rafting. This stretch of river is great for novices. We love this venue for outdoors teambuilding including rafting, ropes courses and the Amazing Race. Rustic but comfortable tented accommodation allow for overnight stays. More...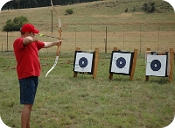 DANIELSRUST GAME FARM, CRADLE OF HUMANKIND - TEAMBUILDING VENUE

Located in the Cradle of Humankind, Danielrust is a privately owned game farm that offers teambuilding activities such as horse back rides or quad trails through the reserve. Whilst there is no dangerous game, sightings of Zebra, Eland, Springbok and more, make for a most pleasant ride. Clay pigeon shooting, paintball and archery add to the fun! Escape the "Big Smoke" and head out to the Cradle for a day of fun and relaxation. More...

Press coverage
In May 2009, experiencethis.co.za was proud to be involved in facilitating the SA Rugby Legends Challenge 2009. Four teams from four companies i.e. SA Rugby Legends, the eLan group, the Mercury Newspaper and Jeep Apparel took each other on in a "Clash of the Titans" featuring 6 different challenges. The first challenge is scheduled to be screened on Supersport 1 on 23 May 2009 (with various repeats throughout the month). The subsequent instalments will be screened on 23 June, 23 July, 23 August, 23 September and 23 October 2009. Watch this space!

In 2006, we enjoyed some fab press coverage in some of SA's favourite, glossy mags - See Cosmo (Jan 2006), Women & Home (Jan 2006), Garden & Home (Feb 2006), Clicks Club Card (Jan/Feb 2006) and Femina (March 2006). more